Adding a New User #30
Adding a new user
To add users click on 
  +
  + 
Enter necessary fields and save. OBS is cloud based, If the user name is already in use you must choose another username.
This will redirect you to System access.  Choose the appropriate settings for the user and select which calendars they need to Edit mode, Read only or have no Access.
It is important to pay attention to a users rights when setting them up.  Who in your organization should be able to delete events?
In Most cases CSR's Estimators, Production Managers and Technicians DO NOT need access to the following.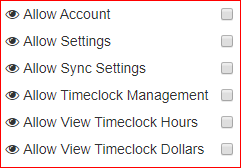 See Mange and update user accounts for more information